The FIDELIO ITN consortium has had its first annual meeting with all its 14 Early Stage Researchers (ESRs), on September 21st and 22nd 2020. Our annual meeting involved all ESRs presenting their progress, and the Supervisory Board reviewing the research training. The meeting was originally planned to be held in May 2020, alongside the congress of the European Calcified Tissues Society in Marseille. Due to COVID-19, the meeting was postponed to September. Finally it was necessary to hold the meeting online, as a face to face meeting was not possible at this time.  So like most EU research projects, we have been working out how to manage a large meeting online.
Our 14 ESRs are now all recruited, with the final two due to start at the beginning of October. It was really great to hear presentations from all our ESRs, including those who have not yet officially started. Despite the challenges of the pandemic, a lot has already been achieved. Especially, the first presentations of FIDELIO results at a scientific conference has been given by ESRs Matthias Walle and Souad Daamouch, who both presented posters at the ASBMR online meeting We also had some good discussion about how we can make the most of the opportunities for research collaboration in FIDELIO.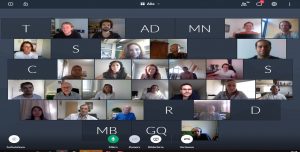 The meeting was also preceded by our ESR forum, run by the ESRs themselves as a part of the management structure of FIDELIO. The ESRs have elected Sofie Kolibová and Samuel Ghatan as their two representatives to the Supervisory Board, as well as ESR representatives for the training committee (Lejla Emini) and dissemination committee (Sebastian Zanner).
"We have a great opportunity to do our individual research projects within the FIDELIO consortium" said Sofie Kolibová. "However, I didn't realise how much space is there for cooperation until this meeting. We are at the very beginning and I am quite sure that in the coming time we will build our collaboration even more strongly. I am honoured to be selected as an ESR representative and I will try my best to keep a dialogue between ESRs and supervisors for the satisfaction of both sides."
Sam Ghatan told us "The most meaningful aspect of the meeting for me was realising the depth and variety of expertise within the consortium. We have collaborative relationships available to us, which can take other researchers years to build and we should take full advantage of them. I have the privilege to be selected as an ESR representative and I see my role as helping to translate both the desires of ESRs and the expectations of the supervisors to one and other".
We were also joined at this meeting by our External Advisory Board, Mary Bouxsein (Beth Israel Deaconess Medical Centre, Boston), Ann Schwartz (University of California San Francisco) and Graham Williams (Imperial College London) who gave us very insightful feedback. We are grateful for your commitment to help us improve our consortium and are looking forward to work with them in the next years.
FIDELIO coordinators Martina Rauner and Lorenz Hofbauer concluded "This meeting was an excellent start for FIDELIO and it was great to see the excitement, motivation, and dedication of our ESRs and supervisors. We are glad all ESRs have now made it safely to their host laboratories and are looking forward to fruitful collaborations that will arise in this consortium".